Montreal-based Desjardins Group, North America's biggest association of credit unions, decided Friday to suspend new investments in energy pipelines, citing concerns about their environmental impact.
The mega-investment house, one of more than two dozen institutions that have helped finance Kinder Morgan's Trans Mountain pipeline expansion, "temporarily suspended lending for such projects and may make the decision permanent" in September, Reuters reports, citing company spokesperson Jacques Bouchard. "That would likely mean Desjardins would not help finance other major Canadian pipelines projects, including TransCanada Corporation's Keystone XL and Energy East and Enbridge Inc.'s Line 3," the news agency notes.
The announcement followed ING Group's confirmation that it won't directly finance any of the four pipelines.
Read more at http://theenergymix.com/2017/07/09/breaking-desjardins-suspends-new-pipeline-investments/
JULY 9, 2017NEWS OUTLET CANADIAN BROADCASTING CORPORATION @CBCNEWSPRIMARY SOURCE ETHAN LOU/THOMSON REUTERS @ETHAN_LOU
NOTE: the following article is by a writer for an online news feed about financial markets. It is presented as a "for interest" interest opinion piece, and the information have not been verified.
Summary
TransCanada is poised to begin construction on the Energy East Pipeline and the Keystone XL Pipeline Expansion in the near future.
Litigation and civil disobedience from Indigenous communities located along the project routes will impede pipeline construction.
Lengthy regulatory delays which have occurred so far have delayed the construction of both projects.
The risk associated with these two projects makes TransCanada an unpalatable near or medium-term investment.
It is a near certainty that TransCanada (NYSE:TRP) will meet ferocious resistance to the construction of the Energy East Pipeline and the Keystone XL Pipeline Expansion from Indigenous communities. It is significantly less certain whether TransCanada will be able to bring either pipeline into operation. The risk created by the construction of these two pipeline projects makes TransCanada an unwise investment.
This article will describe the two pipeline projects and the social and political risks associated with each project. It will be demonstrated that management and investors should carefully weigh the risks associated with the construction of both of these large-scale, controversial infrastructure projects.
Energy East
The Energy East Pipeline, if constructed, will transport 1.1 million BPD of crude oil from Alberta to be refined in Eastern Canada. The project route, outlined in the graphic below, runs through six different Canadian provinces.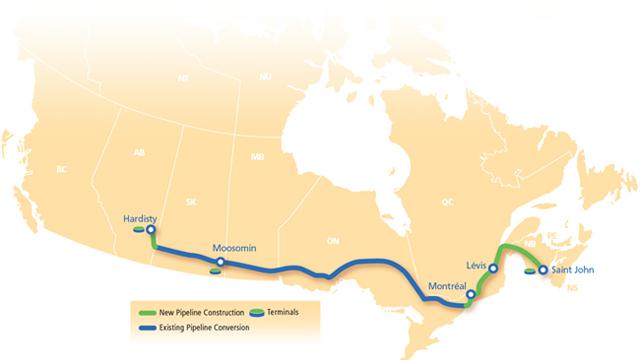 Source: TransCanada
The Energy East Project has already experienced significant delays associated with activism and regulation. In a possible sign of things to come, in August 2016, protesters stormed the National Energy Board hearings over the Energy East Project and caused the hearings to be cancelled. Another significant setback took place on January 27, 2017 as the National Energy Board decidedthat hearings for the Energy East Project would need to be restarted. This decision will result in substantial delays because the public hearings which had already taken place will need to re-occur. This setback, however, may only be the beginning of the Energy East Project's troubles.
Jul. 3.17 | About: TransCanada Corporation (TRP)


Jesse Donovan
Small-cap, natural resources, biotech, tech
(67 followers)